Ebensburg Homecoming

Saturday, July 28th, 2018
JOIN US TO CELEBRATE LIFE, LAUGHTER, FAMILY, FRIENDS & COMMUNITY!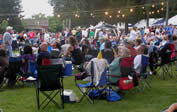 Ebensburg Homecoming was started in the summer of 1997 for the Ebensburg Bicentennial celebration. Since then, it has become a yearly tradition. Every July, the community gets together to celebrate the summer months and welcome former Ebensburg residents home. The celebration consists of many different events and gets bigger and better every year!
Ebensburg Main Street Partnership will also hold a 50/50 drawing and basket raffle at Lake Rowena.
2017 Homecoming Schedule of Events*
Ebensburg Borough

9 am – 12 pm

Penn Eben Park

9 am

Ebensburg Rails-to-Trails at YPCC
*Hosted by Friends of CCXC

Book Sale, Flea Market, Food/Bake Sale

Ebensburg Public Library

Yard Sale, Bake Sale & Food Sales

Bishop Carroll High School


728 Benjamin Franklin Hw

9 am – 11 am

Kid's Fishing Derby

Lake Rowena – *Hosted by Lions Club
Ebensburg Tennis Center
Equipment provided. Call for reservations 471-2980

10 am

Ebensburg Rails-to-Trails at YPCC
(2 mile run-8 mile bike-2 mile run)

10 am – 12 pm

Altoona Curve Baseball Clinic

Lake Rowena Ball Field
Sponsored by Cambria County Commissioners Office and
District Attorney, Kelly Callihan

11 am

Yoga in the Park

Free Class w/ Instructor Lisa Bream,
Veterans Memorial Park

11 am – 3 pm

Community Days

Freedom Ford
The Fabulous Flashbacks  (11 am – 2 pm)
Shine & Show Cruise-In' (11 am – 3 pm)
Best of Show & Door Prizes Awarded at 2 pm
Food & Refreshments

1 pm

Tennis Exhibition Match

Ebensburg Tennis Center

1 pm – 5 pm

Open Air Art Exhibit by Dave Huber

Ghost Town Trail @ West Street Entrance


4 pm to dusk

Bounce House & Bubble Soccer

Lake Rowena

2 pm – 4 pm
6 pm

Clowns, Face Painting & Games
Backpack Giveaways (First 100 kids)

Lake Rowena
*Hosted by Cambria Summit ABATE

  6 pm – 9 pm


Basket Raffle & 50/50

Lake Rowena

8 pm – 11 pm

Live Music by
Night Train

Lake Rowena

Dusk

Fireworks

Lake Rowena
 *The schedule is tentative and subject to change.
Homecoming Vendors
Benshoff Farms – Fresh Cut Fries
Gary's Ice Cream
L & B Concessions – Funnel Cakes, Oreos, Lemonade
Smoke It If You Got It BBQ – smoked baby back ribs and half-chickens, corn on the cob, gobs and chocolate covered strawberries
2017 Community Yard Sale Map & Address List
2017 Homecoming 5K & Duathalon Results