July 25, 2020

8:00 AM

Throughout Ebensburg
Ebensburg Homecoming
Saturday, July 25, 2020
JOIN US TO CELEBRATE LIFE, LAUGHTER, FAMILY, FRIENDS & COMMUNITY!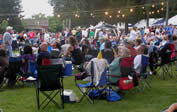 Ebensburg Homecoming was started in the summer of 1997 for the Ebensburg Bicentennial celebration. Since then, it has become a yearly tradition. Every July, the community gets together to celebrate the summer months and welcome former Ebensburg residents home. The celebration consists of many different events and gets bigger and better every year!
*The schedule is tentative and subject to change.
Ebensburg Main Street Partnership will also be holding a 50/50 drawing and basket raffle at Lake Rowena.
Ebensburg Borough

9AM – 12PM

Penn Eben Park

9AM

Ebensburg Rails-to-Trails at YPCC

*Hosted by Friends of CCXC

Book Sale, Flea Market, Food/Bake Sale

Ebensburg Public Library

9AM – 11AM

Kid's Fishing Derby

Lake Rowena – *Hosted by Lions Club

Ebensburg Tennis Center – equipment provided. Call for reservations 471-2980

9:30 AM

 Let's Dance Ebensburg, 526 W. Ogle Street

10AM

Ebensburg Rails-to-Trails at YPCC

(2 mile run-8 mile bike-2 mile run)

1PM

Tennis Exhibition Match

Ebensburg Tennis Center

TBD

Bounce Houses

Lake Rowena

TBD – Dusk

Face Painting & Giveaways

Lake Rowena

*Hosted by Cambria Summit ABATE

  6PM – 9PM

Basket Raffle & 50/50

Lake Rowena

7PM – 10PM

Lake Rowena

Dusk

Fireworks

Lake Rowena