---
Central Cambria High School Swimming Pool
Open swim will be Saturday 11 am to 1 pm & Sunday 7:30 pm to 9 pm ONLY.
Cost is $2 Adult and $1 Child.
Parties will be available Sunday's only from either Noon to 2 pm or 3 to 5 pm at the cost of $100
---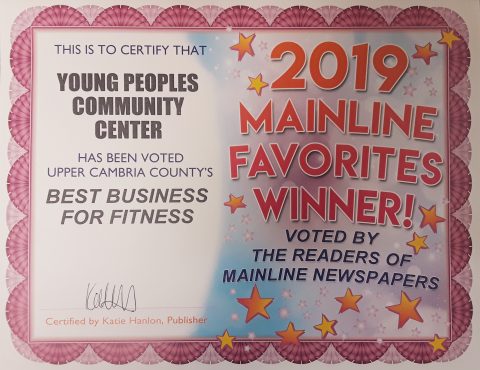 Thank you to everyone who voted for us! You don't know how much this means to us! We try very hard to keep this place just as you want and even better for the children and members! This is so appreciated and we are extremely grateful! THANK YOU!
---
---
Beer and Wine 5K
Click below to pre-register for the YPCC Beer and Wine 5K! Pre-registration is due by July 25, 2019.
Wine and Beer 5k sign up sheet
---
21st Annual YPCC Charity Golf Tournament
Friday June 7, 2019
Ebensburg Country Club
$125 per person, Registration form link below:
Golf Outing Registration Letter
There are 7 different levels of sponsorship, form for that is below: