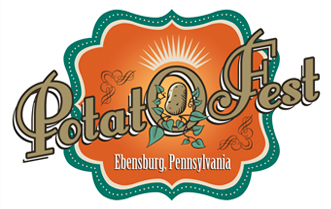 Saturday, September 25, 2021

The Ebensburg Main Street Partnership is hopeful that we will be able to host the 30th Annual PotatoFest this year in downtown Ebensburg, on Saturday, September 26, 2021. We are closely following the safety guidelines and restrictions in place for outdoor events, and will abide by those guidelines that are in place at the time of the event. If we need to modify this event, as we did last year, we are prepared to do that.
The Ebensburg PotatoFest is an annual event in Ebensburg, PA celebrating Cambria County potatoes and its growers. It is held on the last Saturday of September each year! The county is the second largest supplier of potatoes in the state. The festival is a fun-filled day of arts, crafts, entertainment, and food for the entire family. Entertainers perform throughout the day with music to please all ages. Over 200 crafters and artisans line the streets for blocks with homemade wares and food of all kinds. Join in the festivities and spend the day in our beautiful community!
Check out a promotional video of the 2019 PotatoFest Here:
https://youtu.be/3-TwapBSOoQ