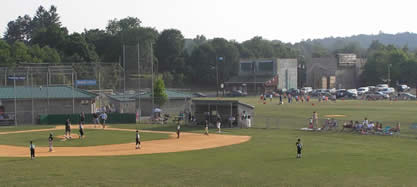 Organized baseball in Ebensburg ranges from instructional T-Ball for ages 5-8 up to junior league baseball for ages 18 and over. The Ebensburg Youth League administers the T-Ball and Little League programs, with games played at Lions Field, Lake Field and Memorial Field.
ELL Official Website: Click here!
The American Legion Baseball League is comprised of teams from across Cambria County, including Ebensburg; players are ages 16-18.
Those age 18 and over desiring to continue to play organized baseball are encouraged to join the Johnstown Junior League.
Ebensburg is particularly proud of its girl's softball. Central Cambria High School remains a powerhouse in this sport.
Double Play Baseball/Softball Training Center is located at 915 W. Ogle Street, Ebensburg.
Baseball fans in Ebensburg are fortunate to have two professional teams to support. The Altoona Curve, the AA affiliate of the Pittsburgh Pirates, call the magnificent Blair County Ball Park in Altoona home (20 minutes east) and the Pittsburgh Pirates are only 90 minutes to the west.