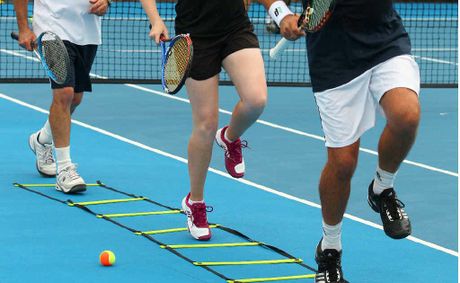 We are offering a new 5-week session of cardio tennis starting January 7, 2017 and running thru February 4, 2017. The clinic will run from 10:00am to 11:00am and will focus on the dynamic movement of tennis. A great way to work on footwork through a variety of drills and conditioning with the use of ladders. The clinic is $65 for non-members and $60 for members. Hope to see you on the courts!!!
---
Here is an outline of the Fall/Winter All You Can Play pass for 2016/17.    Enclosed is a list of guidelines and prices for the pass.
*Pass begins September 11 and will continue until May 20
*Anyone who does not have an AYCP pass will have to pay court rent.
*To have an AYCP pass you must be a member of the tennis center.
*You can reserve a maximum of two hours of court time at one time.
*You may only reserve tennis courts 7 days in advance.
*Pass is for the indoor courts only. 
*If you are unable to use your court reservation please cancel your court  24 hours in advance.*
Costs:
Single pass         $340.00
Family pass        $520.00 
Times available for AYCP:
Monday-Friday                 11:00am – 4 pm
Saturday                              2:30 pm – 8:00 pm
Sunday                                 8:00 am – 2 pm
*Please make sure that if someone in your group does not have an AYCP pass they get charged accordingly.  If you decide to play longer than the time you have reserved just leave me a note or remind a front desk employee that your group has played longer.*
---
Loyalty Program – Members Only
We are introducing a new loyalty rewards program for those who frequently use our facilities, participate in special promotions, or refer new members.
There are 2 different levels to the loyalty program:
Gold Level members will be given  their choice of 2 free hours of court rental, 2 hours of free ball machine rental, or a 15% pro shop discount.
Platinum Level members will be given their choice of 4 hours of free court rental, 4 hours of free ball machine rental, or a 25% pro shop discount.
Enrollment sign up sheets are available at the front desk of the Ebensburg Tennis Center. Once you meet the specified criteria, you will be automatically entered into the program.
Thank you for your continued support, as well as your involvement in this program!!!!